We are in school with
reduced class sizes, daily screenings,
and masks for all age 2 and older.

Limited enrollment currently
available for
3-6 year old students
and
and Toddlers.

Please call us at 904-733-5797
to set up a virtual
classroom observation.




Current Parents, access your
Montessori Compass account for school
communication and conference reports.


View the entire Montessori
Scope and Sequence
through Montessori Compass.


Visit the Early Learning Coalition of Duval
for more information on VPK.


"The aim of Montessori Education is to foster autonomous,
competent, responsible, adaptive citizens
who are life long-learners and problem-solvers."
Dr. Maria Montessori
a child's place is a dynamic Montessori learning environment in Jacksonville, Florida for children who are young toddlers through elementary age, which offers part-day and full-day programs throughout the year. The Montessori Method embraces the universal needs of children in a "whole child" approach to education; physical, intellectual, social and emotional growth. Montessori classrooms are child-centered environments. Our teachers guide the students and respect each child's right to work toward intrinsic reward through honoring freedom of choice and movement, self discovery and self discipline. Montessori education embraces cultural diversity in multi-age classrooms. Our school offers integrated curriculums for Young Toddlers (12 mos+), Toddlers, Early Childhood, and Elementary students.
Our informative website is a place to begin your understanding of Montessori education. Learning about Montessori education is a process that may take several visits to internalize all of the material included in this website. After familiarizing yourself with the concepts and information, we invite you to schedule a school tour and classroom observation. Direct observation is the best way to help determine if Montessori education and a child's place Montessori School is right for you and your child. We look forward to hearing from you and showing you our school.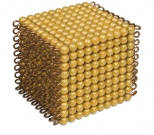 Young Toddler (12 mos+) | Toddler | Early Childhood | Elementary



Dr. Maria Montessori lived through two world wars. Her entire philosophy is about kindness, empathy, and preparing the environment for children to be successful. Lead teacher training is the science of learning: observing, adapting and changing to encourage success. Montessori education was founded in science and crisis. It can help us all through this crisis as well.

We conduct health screenings and temperature checks on arrival. Each self-contained group will have 10 families or less. All staff and all children over 2 who are able, will wear masks. There will be increased hand washing and cleaning.

Please send an email to Office at achildsplace.info with any questions or contact us to schedule a virtual class observation and see an authentic Montessori environment.

Geoff Selhorst
Administrator